Top-shelf BlackBerry Q30 (Windermere) photos and specs leak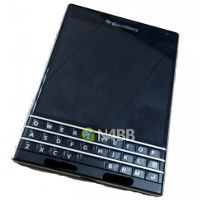 We have been waiting for more news on the BlackBerry Q30, aka Windermere. This is supposedly a top-shelf model being designed by BlackBerry, as opposed to the entry-level devices designed and produced by Foxconn. On Tuesday, some new photographs have leaked, along with rumored specs for the unique looking handset. The BlackBerry Q30 features a unique physical QWERTY with no number or punctuation keys showing. There is a stainless steel bezel similar to the one on the
BlackBerry Z10
and
BlackBerry Bold 9930
.
The BlackBerry Q30 will have a 4+ inch screen with a 1440 x 1440 resolution. We are told that the
pixel
density will be 480ppi. So far, so good. A quad-core Snapdragon CPU is under the hood, with the Adreno 330 GPU handling graphics. The device will feature 3GB of RAM and there will be a 13MP camera on back. A non-removable 3450mAh battery is on board. That should keep the phone running all day. The charger is on the bottom, and like the
BlackBerry Z30
, there are speakers at the top and bottom. The opening seen at the top of the phone when looking at the back, is used for access to the microSD slot and the SIM card tray.
So how does that QWERTY work? Reportedly, it works just like a trackpad does. When you're typing on the QWERTY, swipe from right to left on the keyboard to delete a word. If you are using the browser, switch to landscape mode and scroll up or down by swiping on the physical QWERTY. As you type, three columns will appear, each with a recommended word. You can swipe to the left, middle or right to use one of the suggestions.
Will this be the device that saves BlackBerry? We probably will have to wait to see that QWERTY in action before we can even come close to making a judgment. After all, the Sure Press on the
BlackBerry Storm
was supposed to be revolutionary and make the user feel like he was typing on a computer keyboard.
The clickable QWERTY did win an award
, but most smartphone users were not impressed.
source:
N4BB
via
BerryReview