Top 5 Android custom ROM software features
39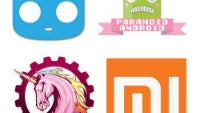 Earlier this week, we covered the
best software features
that you can get via Android manufacturer customizations from companies like Motorola, Samsung, and HTC. Now, it's time to take a look at the best software features you can get from Android custom ROMs that aren't tied to one specific manufacturer.
There are tons and tons of custom ROMs based on Android, and we can't really take the time to look through all of them and the various tweaks and changes that each offers; and, we aren't going to consider any ROMs that are only available on one manufacturer's hardware, like DarkyROM which is Samsung only. So, we're going to focus specifically on the biggest Android custom ROMs around, like CyanogenMod, Paranoid Android, and MIUI. These are the ROMs that have survived the longest, have the best support, and are available on the widest range of devices. Basically, we'd like this article to stay as relevant as possible for a while.
The rules are a bit different this time around, though. These ROMs aren't device specific, so no worries about hardware-specific features. But, we are going to try not to get into the myriad settings and under-the-hood tweaks available in all the ROMs (which is why you won't find any of the nice features of AOKP on the list), and try to target more visible features. Anyway, on with the list!