Tokova comes out of the blue with two Soulja Boy special edition tablets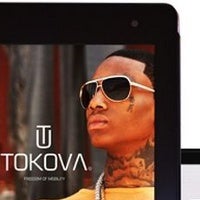 Tokova is not a brand most of you have heard of - we ourselves discovered it recently, but its partnership over Android tablets with rapper Soulja Boy is definitely looking like one of the better attempts of a low-key company to gain mainstream approval.
Tokova is releasing two tablets - the Tokova Tiger Shark and Tokova Great White, both with alluring design and the rapper's name and image easily noticeable. Now, that's the only difference from the original Tokova tablets, but if using that celebrity endorsement could help, we don't see a sin in the company's marketing efforts.
Now, the two tablets definitely don't look bad, but the price might be just a bit overinflated. The 7-inch
Tokova Tiger Shark
costs $400 and arrives with Android 4.0 Ice Cream Sandwich, a 1.2GHz processor and 64GB of internal storage. The Tiger Shark is one of the thinnest on the market currently with its 0.4-inch thick body. The price is set at $400, which seems a bit pricey when compared to the cutting
edge
but still nearly twice cheaper Google Nexus 7 and Samsung Galaxy Tab 2 7.0.
The
Tokova Great White
is the bigger slate, coming with a 9.5-inch IPS display with a resolution of 1024x768 pixels. It also runs on ICS and features a 1.5GHz quad-core processor with 2GB of RAM, and again 64 gigs of internal storage. The price for the 9.5-incher is set at $500.
Now, the tablets definitely don't look bad, but would you be willing to get a device from a brand like Tokova that not many people have heard of? Check out the pictures below and let us know in the comments section.
source:
Tokova
via
Phandroid