Toddler uses eBay app and buys dad a used vintage car
14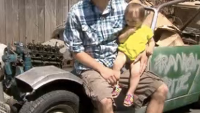 You know how manufacturers like to show how easy their product works by saying "it's so simple even a baby can use it"? Sometimes, having a product that a baby can access is not a good idea. Take theeBay app for example. It is so simple to run that 14 month old Sorella Stoute used it to accidentally purchase a 1962 Austin Healey for her dad. Luckily for her parents, the car
cost only $225
.
As Sorella's dad put it during an interview with KOIN, "
She decided to open the eBay app and started clicking around and one thing led to another and we own a car
." Instead of trying to explain to eBay what happened , Mr. and Mrs. Stoute decided to keep the car, although they did have a small panic first.
To prevent the toddler from moving to the luxury priced models, Dad has added some safeguards to keep his precocious daughter from opening up the apps on his phone. He is now using facial recognition to keep his phone locked, and has switched to a new PIN code. His parting words? "
I'm just glad she didn't buy the $38,000 Porsche I was looking at
," he said.
source:
KSN-TV
via
CNET