Timeline of mobile app stores in graphic form
5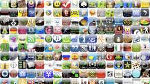 Timeline of the mobile app store industry
The Apple
App Store
opened its doors in July 2008 and since then, growth in online mobile application stores and the apps available in them, has been nothing short of phenomenal. Consider that the very first weekend that Apple debuted its "store", an
amazing 10 million apps were downloaded
. That October, the App Store had competition when
Walmart
the Android Market opened with just 50 apps to its name. That same month, RIM announced that
it would open BlackBerry App World
which started accepting submissions from developers early the next year. In May 2009,
Nokia debuted the Ovi Store
which briefly was second behind the App Store.
You can re-live the growth of the mobile app store thanks to this graph produced by ShoutEm. It traces the incredible growth in apps available for iOS as the App Store
grew from 100,000 apps after its first year
to the current 500,000. The Android Market story can be followed from those initial 50 apps to the recent count last summer of 250,000 with 6 billion downloads. Other stores like the Windows Marketplace are also included in the timeline.
The timeline ends in August of last year, so the figures are not the most up to date, but they do present a historical, accurate picture of the exciting growth in the industry.
source:
ReadWriteWeb

The timeline tracks the growth of these online mobile app stores