Tim Cook shoots down the idea of a MacBook/iPad hybrid
43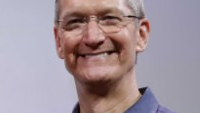 Just the other day, we told you how
Apple CEO Tim Cook had less than kind words for the Surface Book
. The hybrid tablet/notebook, according to the Apple executive, tries to be both a tablet and a notebook, and "
really succeeds at being neither
." This comment came after Apple marketing head Phil Schiller called the hybrid market a niche one that will never grow into something significant.
Obviously, Apple is not fond of hybrid devices. Speaking to a newspaper in Ireland, Cook laid to rest any possible chance that Apple would produce a MacBook/iPad hybrid. The executive said that in trying to converge both products, the end result would be a device that wouldn't satisfy the MacBook or iPad user.
Cook also told the newspaper that when he said last week that the release of the Apple iPad Pro means that computers are no longer necessary, he was referring to Windows PCs, not Macs. "We don't regard Macs and PCs to be the same," Cook said, adding that both Macs and iPads have a strong future.
"We feel strongly that customers are not really looking for a converged Mac and iPad. Because what that would wind up doing, or what we're worried would happen, is that neither experience would be as good as the customer wants. So we want to make the best tablet in the world and the best Mac in the world. And putting those two together would not achieve either. You'd begin to compromise in different ways."-Tim Cook, CEO, Apple
If you've been looking for Apple to release a hybrid device, better forget about it as long as Tim Cook is running the company. There could be a time well into the future when such a device becomes reality. After all, who ever thought that Apple would ever release a 5.5-inch iPhone, or sell a stylus (Apple Pencil)? Those are things that Steve Jobs was dead set against, and yet, consumers can buy a large-screened iPhone and the Apple Pencil.
source:
Independent.ie
via
BGR