Tim Cook helps Apple be more appealing to the enterprise
27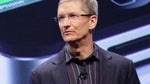 Apple is a consumer electronics company. Its products are intentionally aimed at meeting the needs of consumers, and former CEO Steve Jobs was notorious for being his abrasive and dismissive attitude towards corporate requests on his products.
This didn't come out of nowhere of course. The enterprise market completely abandoned Macintosh computers during the 1990s, helping Windows become ubiquitous and nearly forcing Apple into bankruptcy. Jobs has a long memory. And when a Jobs-lead Apple was resurgent the very attributes that made it effective with consumers, like utter secrecy prior to product launches, flew in the face of IT personnel that try to plan out a company's budget years in advance. So for many years the feeling of antipathy was mutual.
Yet a funny thing has happened the last decade. Consumer products like the iPhone (and Android) were so popular that many employees demanded to be allowed to use them at work. As IT departments vetted the new phones, they discovered that writing custom apps could actually increase efficiency. The launch of the iPad allowed many companies to replace physical media, or bulky laptop computers, furthering the reach of Apple products into corporate America. Through it all, according to observers, Steve Jobs remained as frank and abrasive as ever with CIOs.
One thing Tim Cook brings to this equation is his willingness to engage with enterprise customers. As Cook has taken on a larger role at Apple, earnings calls have begun to report rates of enterprise adoption of iOS products. And according to those working around him Cook actively meets with corporate customers and addresses their needs, even as he keeps Apple's ship pointed strongly in the direction of consumers.
Many questions remain about what impact Tim Cook's leadership will have on Apple in the coming years, but improvements he has made in the relationship of Apple with large businesses can only help them find new sources of revenue in the coming years.
source:
New York Times
via
TUAW