Tim Burton to direct Unicorn Apolcalypse movie in new Samsung Galaxy Note 10.1 ad
6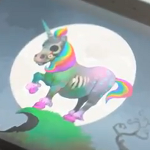 Actress Helena Bonham Carter has a pretty famous husband, a director that you might have heard of named
Tim Burton
. Yeah, that's a joke. We all know who Tim Burton is from such films as
Edward Scissorhands
to
The Nightmare Before Christmas
and
Sweeny Todd
. Heck, he even directed
Mars Attacks!
although we can easily forgive him that one transgression.
Samsung Galaxy S III
and the
Samsung GALAXY Note II
for use in the enterprise. The studio produced a game called
Unicorn Apocalypse
which leaked in the ads due to the other handsets used by employees that were not as secure as the Samsung models. This time, the ad promotes the
Samsung Galaxy Note 10.1
tablet.
In the new ad, Unicorn Apocalypse is being made into a movie, and who better to direct the film than Tim Burton. The movie is to be Unicorn Apocalypse : Horn of Darkness. We don't want to spoil the ending for you, so just take a look at the video below. We also included the earlier ads so you can quickly get up to speed. No need to thank us, it's just what we do.
source:
Samsung
via
DroidLife