Three new Moto X ads show off old Moto X features
6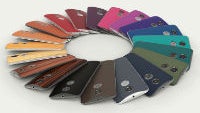 Now this is somewhat odd. Motorola's new Moto X went up for pre-order today after receiving universally positive reviews from around the mobile tech world (with more than one outlet calling the device "the best Android phone ever"). There are solid updates to the phone, and the Moto X looks amazing all-around. But, three new Moto X ads are mostly showing off old features.
The three ads focus on the camera, Moto Voice, and Moto Assist, and sure each app looks different; but, out of the three ads, there are only three completely new features shown off, and two of them are in the camera spot. In addition to the Quick Capture gesture to launch the device, the camera ad shows off the new "best shot" feature and the highlight reel. The Moto Voice ad shows off things you could do with last year's device, with the addition of posting to Facebook. And, the Moto Assist ad actually just reuses the driving bit from the Moto Voice spot.
All of those features are legitimately great, but it is odd to not see anything with Moto Display, nothing with the new hand gestures, nothing about the new leather options for the backings, and nothing about all of the cool accessories for the Moto X. We loved the old Moto X, but it would have been nice to see more of the
new
in the new Moto X.