This portable backup battery has the size of a car key, but might help you in case of emergency
2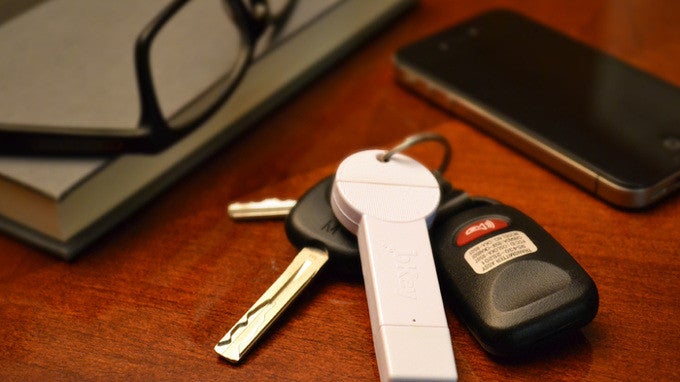 The term "nomophobia" came into existence back in 2010, and depicts the anxiety that one experiences when their smartphone runs out of battery or loses its cell coverage. Frankly said, probably a lot of you have felt utterly deceived by nowadays' technology when you've needed your device the most, but it hasn't lived up to your expectations, because of a depleted battery or something else. Surely, things are not bound to get any better if you are into an emergency.
While not everyone is keen on toting a spare battery (provided that your phone allows you to interchange its juicer) or an everything-but-compact power bank everywhere they go, this little accessory will provide you with the right amount of juice to make several brief phone calls. Meet bKey, a portable battery pack that is not much bigger than a regular car key – its dimensions are 48mm x 14.8mm x 4.2mm. The accessory totes a 230mAh Li-ion battery in itself, which is unsurprising should we consider its compact size.
That said, bKey's purpose is to provide you with just enough backup battery juice to make several brief phone calls. Up to 30 minutes in length, according to the creator of the accessory, which will probably be sufficient in a case of emergency. Thanks to the keyhole on its top, you can attach the accessory to your keyring and make use of it whenever you want in the next 30 days, which is the approximate amount of time it holds its charge without feeling the necessity to be recharged.
bKey got crowdfunded on Kickstarter and is available in three versions – one is endowed with a microUSB connector, whereas the other two flaunt support for either the
Apple iPhone 3GS
,
iPhone 4
, and
iPhone 4s
or the
Apple iPhone 5
,
iPhone 5c
, and
iPhone 5s
, respectively. Charging the backup battery is done by a regular USB port on its other side. If bKey looks like something you'd throw your money at, just follow the source link and you might be able to do just so.
source:
Kickstarter
via
SlashGear