This just in: "no plans" for Google Play edition LG G2
28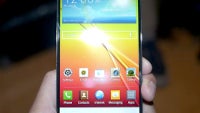 As is the case with most newthings, it is only once the dust settles down that we get to see thefull picture. In the case of LG'snewest flagship, theG2, this means that we already have the first thing that isn'tgoing to be so great about it: no Google Play edition:
"Asof right now, LG doesn't have any plans for a Google Play Edition.The focus for the G2 is penetration through carriers. That howevercould change down the road."said Ken Hong with LG PR.
GooglePlay edition smartphones, along with Google's Nexus line ofsmartphones and tablets are a special class of Android devices thatrun a wholly stock experience. You probably guessed that this, apartfrom the inherent smooth, as-intended experience, also spells outfaster updates for such devices, making them a more and more popularchoice. Samsung and HTC have already followed suit with GooglePlay editions of the Galaxy S4 and One, respectively, with Sonyrumored to become the third manufacturer to offer one. In fact,the latest Nexus smartphone, the Nexus 4, was assembled under LG'svery roof.
So why is theSouth Korean manufacturer denying a similar treatment for its new badboy? While this classifies as pure speculation, we see severalpossible reasons. Ifthe rumor mill has the truth of it, LG may be on track tomanufacture the Nexus 5, said to be based on the G2. A Google Playedition G2, then, wouldn't make too much sense as it would simply eatinto and cannibalize a portion of the Nexus 5's sales.
Ona different note, while this is official, we are rather reluctant togo ahead and despair – the more attentive of you may remember thatHTC also denied that aGoogle Play-flavored edition of the all-aluminum flagship is coming.And see how that turned out!
via: AndroidCommunity