This is how Apple is keeping larger iPhone displays in a small package
35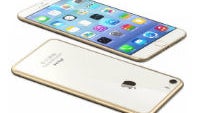 Spoiler alert: Apple's method for keeping the overall phone size small while increasing the iPhone display size is exactly the same as every other smartphone manufacturer on the planet. That's pretty crazy, right? If you want to keep the phone size small and make the display bigger, there is really only one option: shrink the bezels.
Apple has always held the position that smartphones need to be usable with one hand. It's why the iPhone stayed smaller while the majority of competing devices kept getting bigger and bigger. So, Apple obviously needs to do something to make sure the 4.7-inch display on the iPhone 6 doesn't make the overall package too big to use one-handed. New leaked images of the front face of the iPhone 6 from Sonny Dickson and uSwitch show how Apple is doing that. Obviously the side bezels have been made thinner, but Apple is also reclaiming some space by shrinking the bottom bezel that surrounds the home button.
The trouble is obviously that Apple's iconic design is making it difficult to really reclaim all that much space. For example, Apple could never make a 4.7-inch iPhone as small overall as the
Moto X
, because a device like that wouldn't have anywhere to put the home button. So, this leaves a big question: what is Apple's plan for the reported 5.5-inch iPhone? It will obviously be another instance of Apple saying something is a terrible idea, until they do it, but the only way to use a device that large with one hand is if you happen to have extremely large hands. Making an extremely thin device will only help so much.