This iPhone concept video won't become real this year, but it would be awesome!
69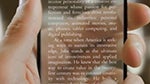 As you well know, speculation in the next iPhone began… probably a day after the launch of the iPhone 4S. Amid
the chatter
over new LTE radios,
metal back plates
, and the such, at the end of the day we rarely know exactly what will emerge from Apple until launch day. One thing we can probably be sure of is that the concept video for the iPhone 5 (below) won't be coming this year – although it would be spectacular if it were.
The phone shown has the same aesthetic as the current iPhone, but has a clear screen. Screens like this have already been demonstrated, the main problem with such a design is that the phone components have to be contained within the top and bottom bezel areas, and chip miniaturization hasn't progressed to that level yet.
Aside from having a unique look, phones like this will probably appear sooner or later (perhaps Apple will even make one), as they provide several benefits. Along with the easier photographic composition shown in the video, a see-through screen provides for many improved opportunities for augmented reality services, and of course also provides the user with a better view when using the phone while walking.
source:
Geek.com