This iPhone 6 case harvests energy from external radio waves
14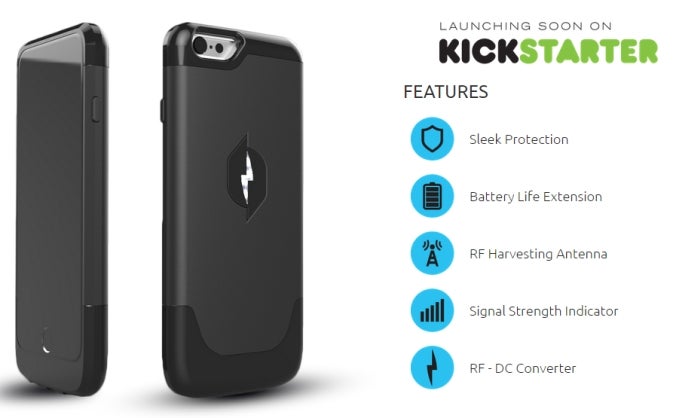 Today at the TechCrunch Disrupt event in New York, the future of smartphone batteries might have been introduced. Nikola Labs took the stage a few hours ago at the conference and unveiled a case for the
iPhone 6
that can charge the smartphone by harvesting energy from external radio frequencies.
According to the company, more than 90 percent of the energy that smartphones use to maintain voice and data connections is wasted in thin air. The case unveiled today by Nikola Labs can capture that energy and use it to charge the smartphone, allegedly expanding the battery life of the iPhone 6 by about 30 percent.
To enable this magical charging capability, the case uses two pieces of technology developed and patented by the Ohio State University. The first is a "harvesting" antenna that can capture energy from the radio frequencies surrounding the smartphone, and the second is a RF-DC converter that transforms this energy into DC current that the smartphone can actually use. Nikola Labs says that its case can harvest energy from Wi-Fi, Bluetooth, and LTE frequencies. The case does not store energy, and the process is a passive and continuous one, meaning that power is added to the smartphone very slowly.
At the TechCrunch Disrupt NewYork conference, the company demonstrated that the case can also draw power from radio frequencies not emitted by the smartphone: when placed next to Wi-Fi router, the case started generating DC current.
Nikola Labs plans to transform this technology into an actual product by launching a Kickstarter campaign. The campaign will debut in about a month's time, the case will be priced at $99, and the first units are expected to start shipping at some point by the end of September.
Since this seems to be a groundbreaking technology, skeptics have already started raising their eyebrows. As soon as Nikola Labs shares more details about its case, we'll let you know.