This demo of Apple's expected Healthbook app is too awesome to pass
18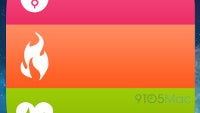 Industry watchers at large are expecting Apple's next iPhone to come with an updated, iOS 8 operating system that will include the rumored Healthbook app. A fitness & wellness hub, so far
it appears that Healthbook is the most ambitious crack at the trendy format
, at least if it materializes as the rumors suggest.
Rumored to pair up with a future iWatch smartwatch, the app can allegedly track a plethora of vitals, such as your heart and respiratory rate, hydration, blood pressure and sugar, and even sleep and oxygen saturation. It's still unknown if and how such a variety of vitals will be tracked by the two, as there is no equivalent on the market just yet, and though there's a chance that's all just wishful thinking, the prospect is quite exciting.
That's precisely why we felt like we just had to share an awesome prototype tool of the app created by visual and graphic designer Jayaprasad Mohanan and a quick video that goes through it. Available on the designer's web page, the tool allows you to take a quick trip through his take on Healthbook yourself. It's not as thorough as the leaked screenshots of the app suggest, but it's beautifully made and follows Apple's approach in app design to the letter. Take a
look
yourself, or check out the video below (or go for both!).