This curious mirrorless camera runs Android, takes Canon lenses
12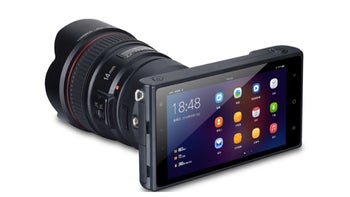 Have you ever wished that the clever software allowing today's smartphone cameras to do their magic was available on dedicated cameras? Well, so have many others.
Actually, the notion of running Android on a camera is nothing new. Back in 2012, Samsung launched the
Galaxy Camera
– a point-and-shoot aimed at combining the best from the smartphone and camera worlds in one device. Unfortunately, though not a bad idea on paper, the Galaxy Camera didn't quite manage to capture the fancy of its target audience. It was neither a smartphone, as you couldn't make calls from it, nor a "real" camera with interchangeable lenses. And even though it spawned a sequel a couple of years later, the Galaxy Camera simply remained a point-and-shoot that ran a sophisticated operating system. Then there was the Samsung NX, which ran Tizen, but it didn't fare any better with its NX mount.
Chinese company Yongnuo is now aiming to change this with a mirrorless camera that not only runs Android, but also allows you to use different lenses... and is compatible with Canon glass, meaning no shortage of options.
The Yongnuo YN450 has a micro 4/3, Panasonic-made sensor with a 16MP resolution and runs an unknown 8-core Qualcomm processor combined with 3GB of RAM, a 4000mAh battery, and 32GB of expandable storage. As can be expected, there's also a front-facing camera for selfies, but what really makes the YN450 stand out from other mirrorless cameras is the fact that it runs Android 7.1 and allows you to use your favorite camera and editing apps to take photos with serious lenses.
There's no release window yet for the new
Yongnuo camera
, but it's likely coming out sometime next year.