This cool app lets you preview the look of furniture in your home with your smartphone camera
1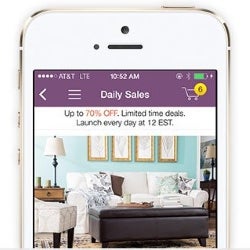 Want to know exactly how the new furniture you've been eyeing recently will tie in with your home? Great, there's an app for that and your smartphone's camera is all it needs to function. We've seen such a thing in action back when Google and Lenovo
demonstrated the Project Tango technology
.
Although the Wayfair app is much less intricate, as it doesn't require a complex system of cameras and 3D positioning to do its thing, it still manages to function rather swimmingly. The furniture shopping app has been upgraded with the View in Room feature, which places two-dimensional, though still very detailed images of products inside your house as you look at it through your smartphone's viewfinder. This way, you can count on a rather realistic depiction of the eventual result, rather than your imagination alone. Items include all sorts of pillows, sofas, chairs, and decorations.
Of course, all the items you preview can be ordered and paid for through the app when you've finished checking things out. We think that's a fun way of going about shopping furniture online. It's a pretty cool, and probably enjoyable thing to be able to do with your smartphone. It also takes the complexity out of augmented reality for every user, as it doesn't need special technology such as sensors and headsets.
The Wayfair app is available on Android and iOS in case you want to take it for a spin.
Download Wayfair for Android or iOS
via
Digital Trends