This app-enabled Spiderman toy might make your children pester you about it for weeks
5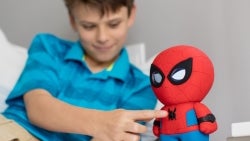 App-enabled toys are the modern day deployment of the remote control toys we craved so badly as children. They are also a way to have lots and lots of fun with your smartphone that doesn't involve downloading a bunch of games. Sphero, maker of affordable hi-tech toys, has launched this pudgy, wise-cracking Spiderman toy that packs almost as much hardware in it as the
Amazon Echo
– and while it doesn't have an omnipresent AI, it is voice-activated and highly interactive!
Spider-man's goggles have two LCD screens that let the little guy express moods and actions with lively animations. A built-in motion sensor enables it to detect passerby and issue witty remarks from a content collection that's supposed to be constantly updated via Wi-Fi. Spidey comes with a microphone as well to enable voice control. Ask him to tell jokes and stories, or play games with you. As for the app, it connects via Bluetooth and lets you launch activities, unlock more content, or track progress in games. Sounds like fun!
Sphero is selling the Spider-man toy for $150. Head over to the official website for more information.
source:
Sphero