This $155, audiophile-friendly microSD card from Sony is... quieter than competitors'?
82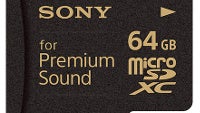 Don't you just hate it when your microSD card inevitably gets to that point in its life where it starts making that awful noise whenever in use? That whirring sound? No? Well of course not, and probably because you never even thought about the possibility that any sound at all is coming out of that microSD card you plugged into your smartphone a while ago and forgot about. Ask Sony, however, and you'll hear it disagree. And that's precisely where its brand-new, 64GB microSD card comes in.
Dubbed SR-64HXA, Sony claims that its internal measurements clearly show that competing Class 10 microSDXC cards emit more electrical noise when reading a file off the memory. That's why the company has slapped a golden "for Premium Sound" gag line on the chip, and, of course, a ¥18,500 (~$155) price tag.
While Sony probably thinks that the SR-64HXA will go hand-in-hand perfectly with
that $1,200 Walkman it announced at CES 2015
, we can't help but feel dumbfounded at the thought of buying into 'quieter' SD cards. Quite frankly, even a Sony spokeperson, cited by
The Wall Street Journal
, seems unsure of what to make of this:
"
We aren't that sure about the product's potential demand, but we thought some among people who are committed to great sound quality would want it
"
When your own employees are as unconvinced in your product's chances, you've got yourself a serious problem, Sony. We'll know for sure come March 5th, when the first-of-its-kind microSD card will be available for purchase in Japan.