Third Eye Crime - an iOS stealth game, available for free today only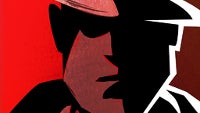 Fans of stealth games owning an iOS device will be especially delighted to know that they can get their hands on Third Eye Crime: Act 1 today for free (24-hour offer).
The game is a top-down 2D sneaker that doesn't add something new to the mobile incarnation of the sneaking genre, however, it combines many established elements successfully and is arguably a must-have for stealth freaks.
You play as Rothko – a slick thief living the criminal hi-life in '50s USA. Every level will have you on a mission to steal a valuable object and leave the premises uncaught. Now, "uncaught" is key here, as this stealth game will usually force you into being seen. It is designed around its evade-the-chasers elements and ends up being a fast-paced puzzle by the end of each level. Rothko, of course, cannot harm enemies, however he has access to an arsenal of gadgets, such as sound producing distractors, camouflage, speed boosts, and others. Each level has 3 challenging achievements, assuring that hardcore gamers will have some replayability to look forward to.
The game's sound effects are not something to write home about, however, its soundtrack is really well done, fun, and fitting. Generally comprised of a '50s-sounding acoustic bass and brush drums, it adds a layer of growling brass to accent moments when you get detected and chased.
Any stealth lovers out there? Let us know if you have this one and what you think of it. Don't shout, though, guards are about.
Download:
iOS
(free, from $2.99, has in-app purchases)
Recommended Stories