These hand-crafted Galaxy S6 and S6 edge models are made out of gold, platinum, and black rhodium
18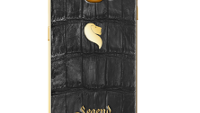 If a top-of-the-line, 128GB storage Galaxy S6 or Galaxy S6 edge unit just doesn't do it for you, Finland-based luxury consume electronics maker Legend may have a more appropriate outlet for your Tuesday allowance.
For 'just' €2150 ($2,270), Legend will hand-craft an S6 or S6 edge in 24K or 18K gold, rose gold, platinum, or black rhodium. Throw in an extra €200 ($211), and you can have a custom, laser-engraved design. A further €100 (or €2300 ($2,420) in total) will get you one of the few limited edition units available – Crocodylus (50 units), Wild Thing (10 units), and Alhambra (10 units). Legend claims that it has a secret and unique process that ensures antenna signal works just fine, despite the metal plating. We're also told that scratches won't be a problem with Legend's special-made devices, as they have applied a super-thin clearcoat formula to make sure the precious materials retain their shine for years to come.
All hand-crafted Galaxy S6 and S6 edge units from Legend will come in an equally luxurious box, and have a 5-year warranty and a certificate of authenticity.
Recommended Stories