These four games feature hectic comedy gameplay and are now free on iOS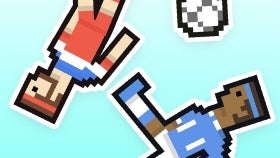 The kind of games that makes you adapt to crazy control schemes and game rules by design can result in a lot of fun. That is, of course, if they're done right. QWOP is a great example. It's frustrating, it's hard to grasp, you can barely walk a few meters, but it's still insanely fun.
So, in case you like such clever video game adaptations of otherwise mundane tasks, you will probably like the work of Otto-Ville Ojala. He has so far released four games for iOS, all of them with clever gameplay mechanics that are probably the most unique we've seen in local multiplayer titles. And, currently, they are all free on the App Store and you can get them from the first source link at the end of this piece.
Soccer Physics is Ojala's most popular game. It pits two to four players against each other in a not-so-classic game of soccer. Instead of just dribbling the ball through the grass, you will have to harness the power of physics to make your players do crazy stunts and score goals.
Tank of Tanks utilizes one-touch controls in a very unique way – you touch your only button to move forward and shoot, and release it to make your tank turn. It's a top-down local multiplayer game for up to four players, featuring short, 60-second matches that are all about destroying your friends' tanks.
Wrestle Jump is a strange adaptation of luchador wrestling. Both wrestlers are connected at their wrists and the goal of each is to make the enemy land on their head. How does this happen, you might ask? By jumping and flipping, you need to make your opponent hit their head before they do the same to you.
And last, but not least, is Mole Hammers – a simple player-vs-player reflex game, based on the Whack-a-Mole arcade classic.
Unfortunately, these gems are on sale, since Ojala is quitting iOS development, since his license is expiring this month. And he's also giving away PC, Mac, and Android versions of Soccer Physics over on his website, so do make sure to check out the source links below.
source:
AppStore
,
OttoOjala.com
via
PocketGamer