These Moto 360 renders show off the beautiful smartwatch in all its glory
9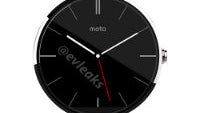 We don't know exactly when we'll finally be seeing the official reveal of the Moto 360 and the Moto X+1, but we're hoping it will be relatively soon. Of course, before an announcement usually comes leaks of press renders, and that's exactly what we're getting of Motorola's upcoming smartwatch. The leaks come from Evleaks, and may end up being the last of his leaks since he recently announced his
retirement
.
There have been unsubstantiated rumors going around that the Moto 360 might be made of plastic rather than metal, but these pictures appear to debunk those notions completely (not to mention we got a
hands-on
with the device, and it was definitely metal with just a couple plastic pieces, like the back of the watch face.) It is tough to glean too much info from the renders though. Without any reference, we can't tell how big the display is, or how thick the device will be. We do get a good look at the silver and dark watch faces and the leather strap for the 360.
Overall, as amazing as the images look, there isn't anything new to be learned from them. The watch does look beautiful, especially compared to the current Android Wear options. Now, it's a matter of Motorola getting it on the market, and hitting a good price point.