There's still room for a third major player, according to our readers!
22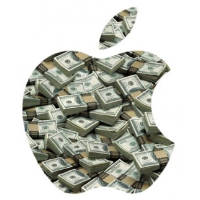 Yesterday
we asked you whether you think there's still room for a third major manufacturer, given that Apple and Samsung combined reaped 105% of the profits for 2015. That leaves pretty much every other maker, small or big, exotic or mainstream, without much to brag about. If we were to speculate, we could easily entertain the idea that, should nothing change, and soon, some manufacturers may simply exit the market. Even in the case of giant corporations, which can subsidize their mobile arms for a while, but at some point shareholder pressure might prove too great to keep on going.
What's worse, a lack of profits means that these same handset makers don't have the freedom to allocate as much resources to R&D as do their more profitable rivals. This, in practice, further limits their ability to innovate in a meaningful way in order to overcome. Which begs the question, once again, if there's room enough for a third.
Well, according to you, there definitely is, with some 56% of votes claiming so. On the other hand, just ~9% think there's just nothing companies outside of Apple and Samsung can do at this point. The inbetweeners—folks who think it's not impossible, but not likely either—account for about 35% of the votes. In conclusion, participants are mostly optimistic. Let's hope they're also right in the long term!