There's an attorney for that; AT&T sues Verizon over map ads
48

You remember when we
told you
about that Verizon ad that poked fun at the iPhone's "there's an app for that" commercials? By putting up two maps comparing Big Red's large 3G coverage with the more spotty AT&T 3G coverage, a off-screen voice says that if you're wondering why your Verizon phone works at 3G speeds while your friends' AT&T device doesn't, "There's a map for that". According to the New York Times, AT&T has filed a suit in the Northern district of Georgia where it's wireless headquarters lie. The suit complains that the AT&T coverage map used in the ad makes it appear that the carrier offers no service at all in the non-blue areas of the country where AT&T does not offer 3G. The truth is that AT&T offers service in those areas, albeit slower than 3G.
The first version of Verizon's spot said that AT&T customers out of the blue 3G region were "Out of touch." After the carrier complained, the copy was changed and superimposed on the screen are words that say, "Voice and data services available outside 3G coverage areas." AT&T still feels that the ads are misleading and points to a survey done in a mall where 53% of those asked responded that they thought the maps showed that there was no AT&T service at all in the non 3G locations on the map. A Verizon spokesman, Jim Gerace, puts forth the argument that AT&T's own ads are misleading. "We believe this action by them calls into question the validity oftheir own claim of fastest 3G network," said Mr. Gerace. "They aremisleading customers by inferring that the fastest 3G network is muchbigger than the blue" area on the map.In response, Mark Siegel, an AT&T spokesman, said, "Verizon began this whole campaign largely in response to the fact thatwe are the leader in smartphones." The suit is being brought under the Lanham Act which bans trademark infringement and false advertisement.
source:
NYTimes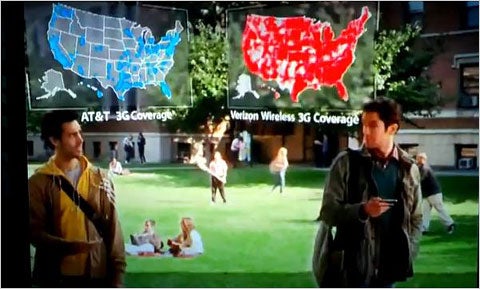 "There's a map for that!"