The rise of the tablet brings on first doomsday signs for e-readers
7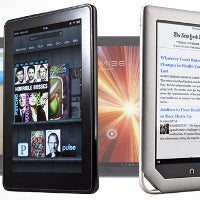 We have already seen analysts round up 2012 for smartphones, but truth is it was a booming year for tablets as well, where the growth has been explosive. But as tablet sales surged there is one type of devices that struggled, and it's hard not to see the correlation.
We are talking about e-readers like Kindles with e-ink displays, of course. While the e-ink technology allows you to read for hours on end with less strain on the eyes, those screens refresh slowly, and even the latest variations don't support the full color spectrum with bright and vivid colors you can get from LCD or AMOLED panels.
And now we have the figures proving this. The International Data Corporation (IDC) reported shipments of PCs, tablets and smartphones, all united in a category called Connected Devices growing by 27.1% on the year, to a total of 303.6 million units in Q3 2012.
While desktops sales are plateauing, notebooks are growing modestly, most growth is driven by smartphones and tablets. Ereaders are the category that users are quickly abandoning. While in 2010 and 2011 sales were growing, now we have a huge 36% drop to 14.9 million units in Q3. This is down from 2011's 23.2 million.
And while we could officially declare tablets to be hugely successful, it seems that they're quickly killing another category - ereaders.
source:
eMarketer