The new Samsung Gear VR headset comes with expanded phone compatibility at an affordable price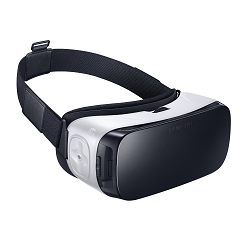 Among the many tech giants that seem to be currently involved in the virtual reality space, Samsung appears to be the fastest one when it comes to bringing its products to market. Earlier today, Samsung has just announced its first consumer-oriented virtual reality headset, the
Samsung Gear
VR.
While Samsung Gear VR headsets have been around for a while now, these were enthusiast's devices that Samsung sold as part of its Innovator Edition series. The new version is the first one that drops the Innovator Edition tagline, which is probably Samsung's way of hinting that its Gear VR headsets are ready for prime time.
One major difference between the new Samsung Gear VR and the previous products is that the new headset is compatible with a range of Samsung's high-end Galaxy smartphones, not just one. The Gear VR can work with the Samsung Galaxy Note 5, Galaxy S6
edge
+, Galaxy S6, and Galaxy S6 edge.
Although the extended phone compatibility will certainly help with user adoption, it's the pricing of the product that most users will be drawn to. While the old Innovator Edition headsets were priced at $199, the new Samsung Gear VR will only cost $99.
Just like with all previous Gear VR headsets, we're looking at a collaboration between Samsung and Oculus. Unlike the full-blown Oculus Rift, however, which will launch in early 2016 as a wired VR headset that connects to your computer, the Samsung Gear VR are wireless products. Users just have to slot in a compatible Samsung Galaxy smartphone, equip the headset, and the virtual reality experience can commence.
If you're tempted, you'll be glad to know that the Samsung Gear VR will land alongside a slew of new gaming titles. The Oculus Store was already populated by a range of "made-for-VR games" such as Land's End, Bandit Six: Salvo, and Dead Secret, while titles such as Gunjack and Anshar Wars 2 are slated for an impending launch.