The little changes in iOS 5
26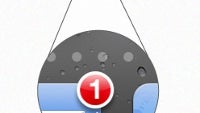 iOS 5, one of the biggest redefinitions in Apple's mobile platform, has been out for a couple of weeks now - plenty of time for users to digest the changes. That's what we've already done in our extensive
iOS 5 review
, but now the little changes have also been uncovered. You might think those are not hugely important, and you'd be right for the most part. But what these subtle changes reveal is the simply mind-boggling attention to detail over at Apple.
Yes, we're talking about the very same
attention coming down to the single pixel
, which Steve Jobs was known for. First comes a change in the shading of the badge shadow from black to gray. You might have not noticed but boxes are now enhanced with a 3D effect, text design has also gone 3D and the distance of the shadow has changed by one pixel. Almost invisible changes continue with a redesigned homescreen where the distance between icons has been tweaked by 2 pixels. You wouldn't notice it, but you'd notice how coherent and visually pleasing Apple's design choices are. And finally, that's what matters, right?