The latest on the Samsung Alias2
11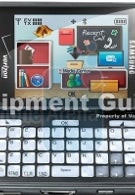 With one of the most unique keypads on a phone, we've been told that the Samsung Alias2 is expected to go on sale at Verizon on May 11th. We first
told you
about this handset and its shifting keypad back in March. As we noted then, the device uses a technology called E-Ink that allows for a numeric phone pad to show when the phone is in portrait mode and change to a QWERTY keyboard when the handset is held in landscape orientation. The E-Ink also allows images to stay on the keypad even when the phone is turned off. Our source tells us that the Alias 2 is one smooth piece of technology and switching from app to app is quick and errorless. Other features include a 2.6 QVGA screen, a 2MP camera, and hot keys that allows for quick one touch transitions to your favorite applications. Our tipster is extremely impressed with the Alias2 and feels it will be a huge seller for Big Red.
Samsung Alias2 Preliminary Specifications
Thank you anonymous tipster, Striker!