Media company used an ingenious method to catch Google copying its work "red-handed"
8
Have you ever done a Google Search for the lyrics to a specific song? A company called Genius Media Group wants you to click the link from Search to its own app. However, as
reported yesterday by The Wall Street Journal
, Genius is miffed at the Alphabet unit claiming that the traffic to its site is declining because Google is publishing full lyrics to songs right on its own platform. In addition, Genius claims that Google is taking some of the lyrics directly from the Genius website.
Two years ago, and again last April, Genius dispatched letters to Google accusing the company of stealing its own lyric transcriptions. The
Journal
was able to get a look at the most recent letter, which states that the use of Genius' own transcriptions by Google violates not only its terms of service, but antitrust law as well. Those seem to be fighting words, and inside Google no doubt there was a smug feeling that there was no way any trier of fact could determine whether the tech giant stole Genius' transcriptions. But what Google didn't know was that inside the transcriptions, Genius had placed a code.
Starting in 2016, Genius quietly made a small but important change to some song lyrics on its site; it alternated apostrophes found in these lyrics between straight and curly marks (' and ') in the same sequence for every song. And the music site had a sense of humor about the whole thing. Converting the two distinctive apostrophe marks into the dots and dashes used in Morse code, the sequence used by Genius spells out "Red Handed" as in, "We've caught you red-handed." Obviously, when this same pattern appeared on lyrics found on Google Search, Google had to concede that Genius' transcriptions were being viewed on Search.
Google got caught copying Genius' lyric transcriptions "red-handed"

Genius first had suspicions about Google Search lyrics back in 2016. Lyric transcriptions for a song called "Panda" from rapper Desiigner had many mistakes on various websites because the words were hard to decipher. But the rapper had worked out a deal with Genius to directly provide the site with the actual lyrics to the song. Ben Gross, Genius's chief strategy officer says, "We noticed that Google's lyrics (for Panda) matched our lyrics down to the character."
Google said in a statement that the lyrics that appear on "information panels" inside Google Search are licensed from third-party firms and aren't created by Google. "We take data quality and creator rights very seriously and hold our licensing partners accountable to the terms of our agreement," the search giant claimed in a statement." After the Journal story was published yesterday, Google released a new statement saying that it was investigating the claims made by Genius and would cut ties with the third party lyric suppliers who were not doing the right thing.
A company called LyricFind shook hands with Google back in 2016. LyricFind works out deals with music publishers that allows Google to post song lyrics on its Search app. LyricFind's CEO denies that his company sources transcriptions from Genius, which once again seems to put the blame directly on Google.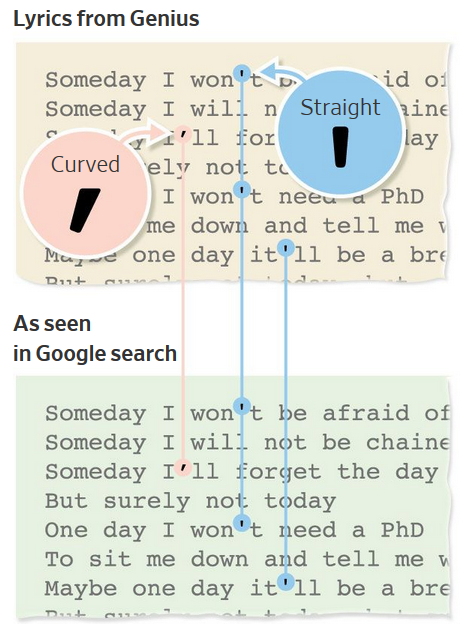 Despite catching Google "red-handed," Genius might not be able to turn its ingenious plan into a court victory. Former Google lawyer Daphne Keller, who now works at Stanford's Center for Internet and Society, points out that because Genius doesn't actually own the copyright on any of the songs that would be brought up in court, the company might not be able to prevail in a lawsuit against Google.