The iPhone's 10th anniversary in stats and sales (infographic)
20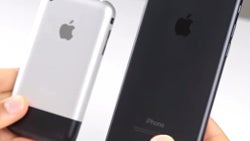 As you have probably heard if you have gotten out of bed today, January 9th marks the
10th anniversary
of the most successful consumer electronics product of all time, the Apple iPhone. Even if you are still skimming the news under the covers, you might have encountered a title or two that promise to show you the evolution of Apple's smartphone portfolio, and even posts where all the iPhones ever released are
put to a battery of tests
together to depict the progress made in a decade.
There is nothing better to show how big of a success the iPhone is than report sheer sales numbers since its introduction in 2007, and the bill of materials for its costs to make. These, along with a few other stats you can find in the infographic below. While in 2016 sales dipped for the first time, the drop came after the whopping number of 231 million units sold in 2015 - the first full year when iPhones with larger, 4.7" and 5.5" screens were sold on the market.
You can't repeat that salvo every year, but Apple is reportedly cooking something unique for 2017, tipped to be an
OLED iPhone
with an edge-to-edge screen, so the graph here may be zagging in the other direction by this time next year.