The horror of it all: Kim Kardashian's last BlackBerry Bold dies
36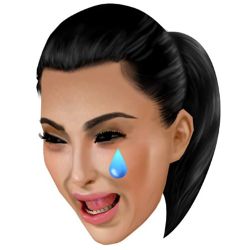 Kim Kardashian is upset. A tweet that she sent out yesterday revealed that her very last BlackBerry Bold had died. She apparently had been hoarding the devices, picking them up from eBay whenever she could find one. But right now, there isn't a Bold to be found. In subsequent tweets, Kardashian says that her options are to try a new BlackBerry, "or a different phone like (a) Samsung." The latter responded by sending her a tweet, imploring her to go with a Samsung handset.
Here's where it pays to be
rich
. Kardashian says that she needs to have two handsets on two different carriers just to make sure one is always working. Here's where it pays to be
famous
. We wouldn't be surprised if Samsung or another manufacturer ends up sending her a couple of phones for free. After all, a picture of her holding a particular unit is sure to provide plenty of publicity for whichever company is on the ball here. This could provide BlackBerry with a golden opportunity to promote the
BlackBerry Priv
. After all, Kim says that it is the physical keyboard that first attracted her to BlackBerry.
In another tweet, Kanye West's significant other said that she was considering buying a pair of iPhone handsets while admitting to missing her BlackBerry Bold greatly. "Reality is starting to set in and I'm getting sad," she tweeted before disseminating a self-made emoji that showed a downhearted Kardashian with a giant tear coming from her eye.
BlackBerry SVP of mobility solutions Alex Thurber commented on this great tragedy by saying, "If Kim is looking to trying something new and innovative, we've got the most secure Android smartphone with
DTEK50
. And, as a longtime fan of BlackBerry's iconic keyboard, we will be adding a physical keyboard soon!"
source:
@KimKardashian
via
CNNMoney