The god simulator Godus has made the jump to Android – free to play
4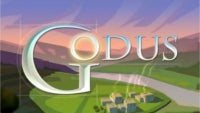 Any gamer who has heard the name Peter Molyneux is probably well aware of the fact that the famous game designer may have a bit of a god complex. Famous for the titles Theme Park, Populus, Dungeon Keeper, Black and White, and Fable, Molyneux's games are strategic in nature, though, they do not allow you to command the little people on-screen directly; rather – you must focus on creating a proper environment for them to function at their best – a management simulation game, they call it, or in Mr. Molyneux's case – God game.
This year, the designer came back with another title of his favorite genre – developed by his studio, 22Cans – the game is called Godus and it puts us in the... well – shoes – of a deity, which must look after its devout followers, nurturing the land around them, allowing them to grow and prosper.
Godus made the jump to mobile
back in August
, when it was released on iOS and, back then, we remarked how great the game feels on a touch-device. Apparently, even though it was first released for PC, 22Cans developed the title with mobile devices well in mind, as manipulating the game environments with your fingers feels natural and personal.
It took some months, but Android gamers can now have their own followers as well, as 22Cans has now released Godus on the Play Store. Unfortunately, it must've been drafty in the bus, which brought the game to mobile, as it has caught the ever-dreadful freemium flu. The game has its own in-game currency and, as with many management / strategy games for phones and tablets, at some point – you will hit a bottleneck, which forces you to either wait for "x" amount of time for something to be built, or to pay up and keep progressing in the game straight away. And you do said paying via the in-game currency, which can be obtained by spending – you guessed it – out-of-the-game currency, namely – yours.
The flipside, of course, is that you can download and try Godus for free now. To be entirely fair – playing the game casually, we did not feel impaired by the time-demanding tasks. We just hopped in the game once or twice a day, took care of business, set some tasks for our followers to do, and let them to it. After all – we all know our real world wasn't built in a day, why would we try to finish the digital one faster?
Download Godus:
Android
|
iOS
(free, with in-app purchases)
via:
Android Community