The future is here: Samsung awarded a patent for a foldable tablet
22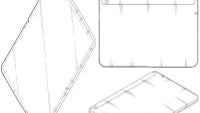 Samsung has been on a row lately, at least as far as the United States Patent and Trademark office is concerned. Just a week back, the Seoul-based electronics giant received a large number of design patents, among which one describing
a phone with a horizontally flexed display
.
As if that wasn't impressive enough on its own, Sammy has actually already managed to top that with an all-new design patent that was officially awarded to it at the very end of 2013 – December 31st. What's so special about this one to warrant a post all of its own? Well, while it's obviously still too early to bring up sci-fi references, it does appear that the future may be closer than we initially thought. Patent US D696,693 S shows a visual rendering of what is, without a doubt, a foldable Samsung device. That's right, the (likely) tablet snaps in two and can be closed much alike to a book, a concept that's mighty impressive and could easily change our understanding of portable. As this is nothing more than a design patent, further details are scarce for now, though we're instantly reminded of
that super futuristic-looking video courtesy of Samsung Display
.
In any case, we do hope that once (and if) such tech becomes more than a feverish dream of Samsung's display department, it'll go through rounds of miniaturization that will see to it that smartphones don't have to miss out on all the foldable fun.
source:
USPTO