The future: Google I/O Youth
8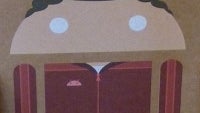 If you noticed
any of our pictures
from around
Google I/O 2015
, you saw a lot of technology, and a lot of people relaxing or having fun. There were see-saws, and swing-sets, and pinball machines, among other things.
That was a sharp contrast to the activities in a room that was set up for the second day of the conference. Dozens of kids from several San Francisco area schools got to attend Google I/O Youth, and there they got to learn some tech basics, like use Google's Toontastic to make short animated films and design a moon rover.
Google has invited kids to I/O for several years, with the intent on helping young people harness their enthusiasm for computers and technology. I/O Youth attendees get a look at the code behind gaming, robotics, design, and other applications.
Googlers are on-site as well to serve as mentors for the groups of kids as they participate in the various activities. The encompassing goal it to foster sustained interest in the computer sciences, and provide an early introduction to develop critical thinking skills.
During one of the lulls between activities, the announcer asked the kids about Google I/O Youth versus being in school. Without missing a beat, one of the kids yelled out, "
This
should be school." While Google I/O is probably not an ideal substitute for all school subjects, it was a poignant statement.