The best iPhone 6 concept videos, in one place
16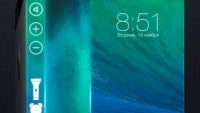 Our mailbox has been under a barrage for a while now, with a number of iPhone 6 concept videos looking for some air time. Before we even get to those, it should be noted that literally nothing is yet known about the next-gen iPhone, and that's not too shocking, seeing as the iPhone 5s and iPhone 5c have just arrived.
Concept videos have always had a certain quality to them – a flare of sorts – that speaks to the inner nerd in us in ways that real product videos just don't. No surprise there – there's still plenty of ground to cover until something along the lines of a wrap-around display is put in commercialization – yet you can perceive the concept of one in its full glory already.
So is this just a load of wishful thinking? Quite possibly, but looking back, outrageous concepts such as those have served as inspiration for humanity's brightest. And when it comes to the iPhone, it really seems like designers all around the world are giving their best shot at a great concept. Let's take a look!