The all-new Google Daydream View VR is half price at Best Buy (today only)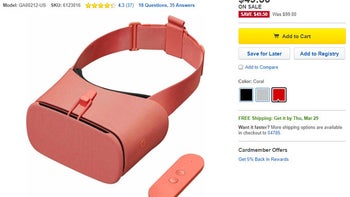 Great news for those who like to ride the waves of the latest trends in technology, as the newest Daydream View VR from Google is now available for purchase at Best Buy at half price.
It's one of the best choices if you are into the VR stuff, even if it doesn't offer the same level of immersion like
HTC's Vive
or
Facebook's Oculus
. The Daydream View VR is an improvement over
the original headset
, so it's worth the upgrade at this price.
Speaking of which, Best Buy is selling the Daydream View VR for just $59, although it's usually available for $100. There's a catch though, as the deal is only valid until the end of the day. Also, it looks like Fog color version of the headset is already sold out, so you'll have to choose between Charcoal and Coral.
The
Daydream View VR
headset comes with a small remote in the box, as well as a removable top strap and guidelines on how to make use of what it has to offer.