The Nexus 6 survives a quick bath, can charge underwater
22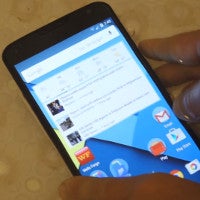 A giant, 6-inch QHD display, powerful quad-core Snapdragon 805, an optically-stabilized, 13-megapixel camera – those are all attributes that we now recognize the Google Nexus 6 for. But water resistance? Not really.
The truth is that both Motorola and especially Google are keeping mum on this one quality of the newest Nexus device. That said, at least Motorola lists the phablet as "water resistant". That's right, "water resistant", not IP-certified, as we've come to expect from waterproof devices (e.g.
Samsung Galaxy S5
), and that's thanks to nano-coating that Motorola has become quite fond of – we've seen it with the Moto G, which can survive quite the dive, but also other recent Motorola devices like the Moto X (2014). But can you actually rely on the Nexus 6 to survive a drop in water?
As it turns out, the answer is yes, at least judging by one particular YouTube video that has the main protagonist, the Nexus 6, dipped in a bathtub (whilst wirelessly-charging, too!). Sure, we still don't know if the massive gadget can withhold water for
the heroic 30 minutes that the Moto G handled a while back
, but it appears safe to say that it'll manage accidental drops pretty well. According to the author of the video, who took to
xda-developers
to share the tale of his exploit, the Nexus 6 behaved normally even several days later, which is all that everyone was hoping to hear.
Check it out!