The Moto G goes through a 30-minute underwater session, lives to see another day
8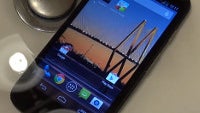 Motorola's Moto G is many things -- well-crafted, shockingly cheap, and a well-looked after device in terms of its software. But being waterproof is one quality we don't actually grant the device. As it turns out, perhaps we should.
When the Moto G was first introduced, we were made aware that at least some parts under the hood were treated to a nano-coating, which is known to exhibit waterproof qualities. But the Moto G was never marketed as a waterproof smartphone -- a selling point for an increasing amount of people, go figure. But perhaps it should have been, since it turns out that the affordable handset is quite the diver. Smartphone reviewer, Erica Griffin, put a unit of the Moto G through what should have been a world of pain, by first submerging the phone for 15 seconds, then 30 seconds, and, finally, 30 long minutes. As you gleaned already, this story has a happy ending -- the Moto G (dubbed 'WALL-E' by Griffin for its unyielding character) made it through and was pretty much fully operational, despite its body being soaked with water to twice its weight. Griffin demonstrated that all the major components worked just fine -- the camera, the spaker and receiver, Wi-Fi and 3G radios, and the display/touch screen, were all unaffected from the experience once they had a few hours to recuperate.
Of course, we have some personal experience with smartphones and water ourselves, so we are curious to see if 'WALL-E' will continue to function properly in the coming weeks, but for now, it suffices to say that the Motorola Moto G is one heck of a smartphone for its price point.