The NHTSA really wants to stop texting and driving, will publicly shame you on Twitter to do it
45

The NHTSA - short for the National Highway Traffic Safety Administration - is carrying out an aggressive Twitter campaign against texting and driving.

A quick glance at the agency's Twitter feed shows that the NHTSA is making a habit out of directly tweeting those who admit to texting and driving on the social network. This is a smart way of getting the message to spread on Twitter because let's face it: getting publicly shamed by a federal agency on Twitter is likely to encourage the reconsideration of this deadly habit.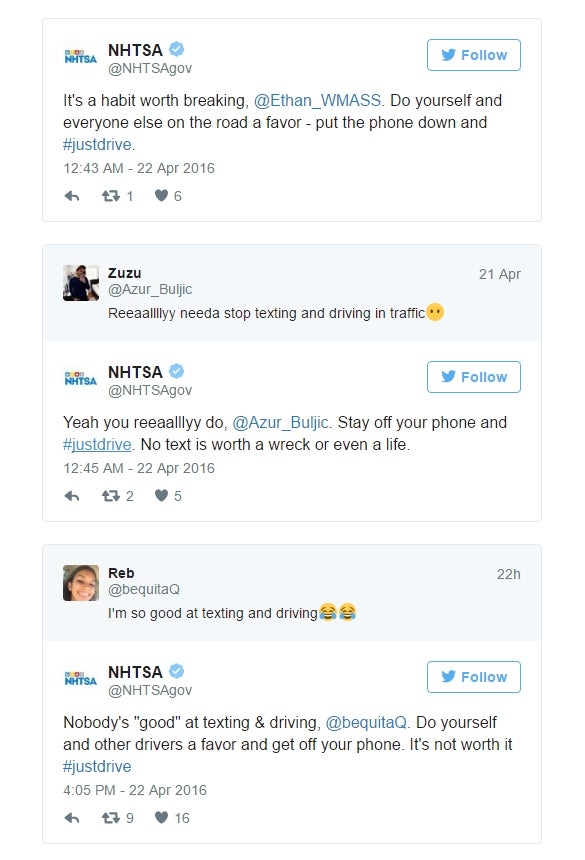 Texting while in the driver seat feels wrong when we do it, and it turns out that this hunch is deeply anchored in statistics. According to the latest report from the NHTSA, smartphones played a key role in the
8.1% increase in traffic deaths in H1 of 2015
.
Note that this is not the first time that the NHTSA is going after texting and driving, although the approach is a bit different. Back in 2010, the US federal body tried - and failed - to impose a
nationwide ban on texting and driving
.
The NHTSA's Tweets are joined by a #justdrive hashtag, which appears to be getting traction among federal and state traffic safety agencies. On our part, we encourage you to use this hashtag yourself and help spread the word.