NHTSA chief says smartphones played a role in the 8.1% increase in traffic deaths in H1 of 2015
6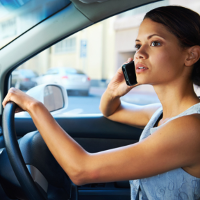 Smartphones are being blamed for the
8.1
% increase in deaths that occurred in U.S. traffic accidents during the first half of this year. Overall, 16,225 people were killed by a car accident from January through June. While some might say that lower gas prices encouraged more driving, the truth is that the growth in fatalities was at twice the rate as the increase in overall driving.
The National Highway Traffic Safety Administration (NHTSA) said it was too early to determine what were the contributing factors for the increase in traffic accident deaths. Still, agency chief Mark Rosekind said that the increase in smartphone use is too significant for the device not to play a part in the rising death toll.
The NHTSA's Rosekind said that laws need to be passed at the state level to make it illegal to drive while using a smartphone. Currently 14 states have laws that prevent a driver from using a handset behind the wheel. Every state has this listed as a primary enforcement law, which means that a cop can pull you over in these 14 states if he sees you talking on the phone while you are navigating your vehicle. All 50 states have laws against texting while driving. In 45 states, it is a primary enforcement law.
"The increase in smartphones in our hands is so significant, there's no question that has to play some role. But we don't have enough information yet to determine how big a role."-Mark Rosekind, NHTSA
You can check the laws that apply to each state when it comes to mobile phones and driving, by clicking on the slideshow below.
source:
GHSA
,
NYPost