The Matrix PowerWatch needs not be charged as it's powered by your body heat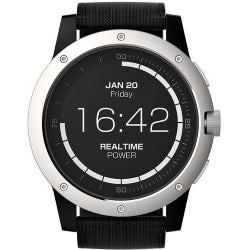 Smartwatches' most common liability is the need the charge them too often, as their tiny batteries struggle to keep up with their increasing hardware complexity. The team behind the Matrix PowerWatch aims to solve this challenge using good old physics. The gadget is powered by the user's body heat and never has to be removed from your wrist for charging. Running off your continuious supply of body heat, the watch stores your data in its memory and goes in low-power mode when you take it off. Putting it back on brings it back where it was and the watch is ready to continue operation.
The Matrix PowerWatch features a power meter that shows you how much electricity your body is producing, which sounds pretty cool and a little bit ominous – after all, this is a computerized machine that's using your body's energy to power itself, which might explain the inspiration behind how it's named. Still, in addition to converting heat to electrical charge, the smartwatch is able to accurately measure the calories you burn, as well as your activity and sleep. Built out of rugged aluminum, the watch is also water-resistant at up to 50 meters.
Like most wearables on the market, the Matrix PowerWatch syncs with a smartphone app that shows all the data accumulated by the gadget. It will support Apple Healthkit and Google Fit integration so you can take advantage of the data inside these apps.
In the works since 2014, the Matrix PowerWatch is currently in deep testing and scheduled to hit mass production in September next year. Funded via Indiegogo, it's already raised 85% of its funding goal with 2 months left until the campaign has ended. Early backers can still pre-order a unit for $99, saving 41% off the suggested $170 retail price.
source:
Indiegogo
via
Techspot