The Lenovo K91 is a holy matrimony between Android and a TV set
14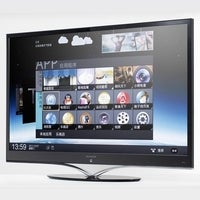 While some are working on
delivering live TV to Android devices
, Lenovo has done the exact opposite, namely
bringing the Android platform to a TV set
. And what a TV set the Lenovo K91 is – a 55 incher boasting a full HD IPS-LCD panel with LED backlight and 240Hz refresh rate.
Delivering the processing power is a dual-core Qualcomm APQ8060 chipset clocked at 1.5GHz, which is actually the very same chip that runs on some Samsung Galaxy S II versions. You also get 8 gigs of on-board storage that can be expanded via an SD card, Wi-Fi connectivity, and a 5-megapixel camera. What comes pre-installed is Android 4.0 Ice Cream Sandwich with Lenovo's very own Sandwich UI that combines traditional TV features and VOD support. And in case you are already wondering, yes, you can browse the Android Market and download apps from it. Additionally, software can be obtained from the Lenovo Store. And if all that is not enough, the Lenovo K91 TV can be controlled via voice commands, or if you prefer a more "traditional" method, you can use its remote control, which offers a
motion
sensor and a touchpad along with a multitude of buttons. A gamepad-like remote control is available as well.
However, as awesome as the Lenovo K91 is, we are not quite sure whether it will be available in the U.S. or not. The company has only mentioned plans for launching it on the Chinese market. Its retail price remains a mystery too. But is anyone burning with desire to put such a TV set in their living room? Do not hesitate to share your thoughts with us in the comments below.