The Kordl takes the burden away from untangling your headphones
4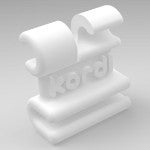 At one point or another, we've all come to experience the frustrations that surround the hassle of taking out our headphones from our pockets and bags – only to be greeted by a tangled mess of wires. Naturally, the last thing we want to do before listening to some soothing music on our smartphones is having to untangle the mess. Well folks, for those who haven't made the plunge in picking up a pair of "
tangle-free
" headphones, the
Kordl
might be something that's suited just for you.
Indeed, some of us won't mind the ordeal and time needed to untangle our headphones, but for those who simply want to jump right in without the hardships, the Kordl is coming to the rescue. Quite simply, this super tiny
injection molded plastic clip
ensures that your headphones will never be tangled again. From the looks of it, you basically wrap the earbud cord around the Kordl's double-pronged slot, and then twist it to secure everything in place. And when you're ready to use them, all you need to do is unwrap the entire thing for quick access.
Certainly, the
miniscule size
of the Kordl might scare away some people, due to the possibility of being misplaced or lost very easily, but the
$2.50 individual cost
won't be too hard to swallow. Then again, if you're thinking about checking this out, the Kordl is currently on Christie Street trying to garner a funding goal of $25,000. Right now, pre-orders are being accepted, but just be aware that they require a minimum of 3 orders – putting the initial total to $7.50 to pick up the Kordl.
source:
Christie Street
Kordl: Tangle-proof your buds from Christie Street on Vimeo.