The Internet discovered you can swipe to backspace on the iPhone's calculator, and promptly went nuts
39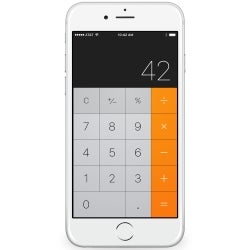 How many times have you entered a number in your iPhone's calculator app, only to enter it wrong, erase it in frustration, and begin the exercise all over again? Hopefully not many, because the ability to swipe left or right on the screen to erase the last digit you entered has been around since at least iOS 4. And iOS 4 is 2010 material! One would have thought people have figured out everything there is about the iPhone calculator by now, but things aren't always what they seem.
Two days ago, Twitter user @censoredialogue casually posted about the feature, discovering it for himself this very moment. 34 thousand likes, 29 thousand re-tweets, and hitting USA Today's front page later, the iPhone calculator's profound revelation has officially broken the Internet. It looks like Apple could have done a way better job highlighting the feature, because people are crying tears of joy over its untimely promulgation.
We're signing off with a small sample of the talk and memes cavalcade spawned by the single tweet, content that our readers will too get a chance to re-discover the iPhone's calculator after living in the dark for so long!
ALSO READ
source:
@censoredialogue
via
USA Today