The HTC Scorpion is packing up its bags and headed for Verizon?
20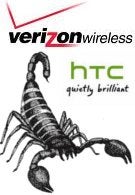 It's been quite some time since we've heard anything regarding the speculated powerful sting accompanying the HTC Scorpion. Back in February, we
reported
on how it would be packing a blazing fast 1.5GHz processor with WiMAX 4G connectivity to compliment its swift nature, but the latest rumor hints to a Verizon Wireless release. At this point in the game, 1GHz Snapdragon processors are becoming quite the norm, so it would only be natural to consider it average. However, the 1.5GHz processor that's speculated to be hard at work inside of the HTC Scorpion is looking to pack its bags and head on over to Verizon. One of MobileCrunch's well-informed sources says that the handset is in-bound for a release with the nation's largest wireless carrier. The
insight
comes straight from the popular ROM hacker, conflipper, who believes that the handset will indeed make a splash on Verizon. However, it's just about anyone's guess if HTC will produce two versions of the handset – one being an LTE version for Verizon and the other would obviously be a WiMAX unit for Sprint. Naturally it would be interesting to see if this handset does indeed come to Verizon – especially when their LTE roll out is still in its infancy stage.
source:
MobileCrunch