The HTC Mega is a TouchFLO 3D handset for those who like to squeeze a buck
5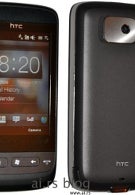 Looking at the list of specs, one could imagine the HTC Mega costing mega-bucks as many of the top HTC models do. Equipped with TouchFLO 3D, the Mega comes with the Opera Mobile browser, Windows Mobile 6.5, and a Qualcomm 528MHz processor. But to bring the cost of the unit down, HTC has cut some corners here and there. For example, the 3.2MP camera is fixed focus. The display is touchscreen, but is 2.8 inches with 240 x 320 pixels of resolution. A 1100mAh battery powers the whole shebang. Well, at least there still is a battery powering the phone instead of a gerbil on a wheel.
Outside of the small cost saving features, the Mega still looks like a rich HTC model from the moment that you see the large analog clock and notifications on the home page. And you are still going to get the use of TouchFLO 3D and the Opera browser. Our previous
report
had discussed a 4th quarter release for this phone at a price point of about $300 U.S. Dollars without a subsidy. Now $300 is nothing to sneeze at in today's economy, but it certainly is lower than the off contract prices seen for the Touch Pro2 and other more feature packed HTC handsets. But if you are looking for a smartphone that skims just a bit off the hardware in order to keep the software top notch, keep checking this space for a launch date and definitive pricing info for the HTC Mega.
HTC Mega Preliminary Specifications
source:
ai.rs