The Google Play Protect logo may appear on your next smartphone's packaging
3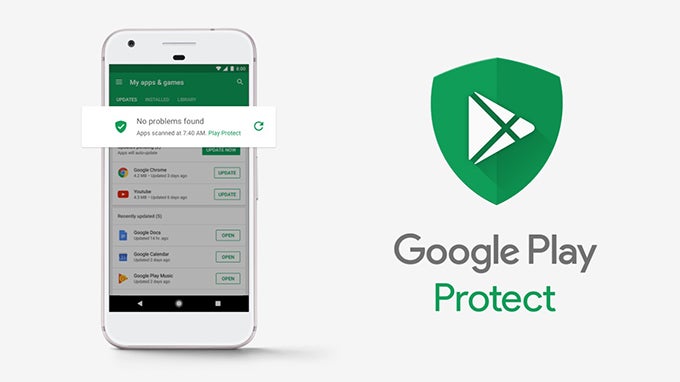 Google's I/O press conference from a few months back played host to a peculiar new software launch: that of Google Play Protect, the tech giant's answer to the ever-growing threat of malicious Android apps. In essence, it's a scanner service built into Google's Play Services, which scans apps installed on a user's device for unwanted behavior — great, right?
Sure, except for the fact that it's nothing more than a simple marketing trick. That is, Google Play Protect is just a rebranding of several services that have existed for years now, and which are circumvented so often that counting how many
malware-infected apps
are
removed from the Play Store
each month
has become something of a sport.
But Google hasn't spent so much time and effort on Play Protect for it to become just a footnote in Google I/O's Wikipedia page (which, by the way, it currently isn't). The feature
has already started rolling out to users' Play Store apps
in the form of a hamburger menu item, but Google has even bigger ambitions for it — namely, putting its logo on smartphone boxes.
As outlined in a post to the company's India regional blog, the Play Protect logo will start appearing on the packaging of Google-certified devices (which is every device that has the Play Store preinstalled).
But in all honesty, even though the entire rebranding is nothing but a marketing campaign, it does have a point: with malware becoming ever more public and/or dangerous, Google wants to assure its users they are safe when using its services (which is still
mostly
true). And putting the branding right on the box makes particular sense in India, where Chinese devices are king — they often run Chinese alternatives to Google's services, which could pose an actual security risk.
Seeing as this was announced on a local Google blog, it's not immediately clear whether such measures will be taken worldwide, or whether they will remain limited to this particular country. This could be just a case of Google soft launching a marketing campaign and seeing how well it works, or it could be an answer to a region-specific problem — for now, we can't tell.