The Google Pixel C is now available for purchase from the Google Store
38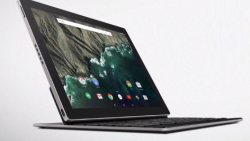 Back in late September when Google unveiled the
Nexus 5X
and the
Nexus 6P
, the company also introduced the
Google Pixel C
, an Android-based 2-in-1 with a premium build and some of the hottest specs in the Android ecosystem. As months passed and the new Nexus smartphones launched, however, Google made no mention of the Google Pixel C until a few hours ago.
Today, more than a month after its unveiling, the Google Pixel C finally landed in the Google Play Store.
The Google Pixel C comes with a 10.2-inch display with a resolution of 2560 by 1800 pixels. Aside from the high pixel count, it's interesting to note that Google used a 1:√2 aspect ratio, which is closer to the 3:2 aspect ratio of recent Microsoft Surface tablets than the 16:10 aspect ratio of most Android tablets. This makes a lot of sense as the Google Pixel C is not your average Android slab, but an Android laptop instead.
In terms of internal hardware, a lot of people are pretty excited to see the Nvidia Tegra K1 chipset in action. The chipmaker announced the Tegra K1 back in early January as the world's first mobile chip with console-level performance. Based on what we've seen from the Nvidia Shield TV, the Android-based console that had the privilege of being the only Tegra K1-powered device available on the market until a few hours ago, we're optimistic about the performance of the Google Pixel C.
Other specs include 3GB of RAM, a USB Type-C connector, and either 32GB or 64GB of integrated storage space. On the software side, the Google Pixel C runs Android 6.0 Marshmallow and will get all of its software updates - including the monthly security updates - from Google itself.
If you really want to turn the Google Pixel C into an Android laptop, you'll also need the optional $150 keyboard. Add that on top of $499 for the 32GB model or $599 for the 64GB one, and you've got yourself an Android tablet with an optional keyboard dock that's priced about as much as decent entry-level Windows 10 laptop. The real question now is: is there a market for Android laptops? Well, we're about to find out!
At the moment, the Google Pixel C is available in Australia, Austria, Belgium, Canada, France, Germany, Hong Kong, Ireland, Netherlands, New Zealand, Spain, Switzerland, United Kingdom, and the USA.

What do you guys think? Interested in the Google Pixel C now that you can finally purchase one?