The Galaxy S8 and S8+ are getting a special Asiana Airlines edition
4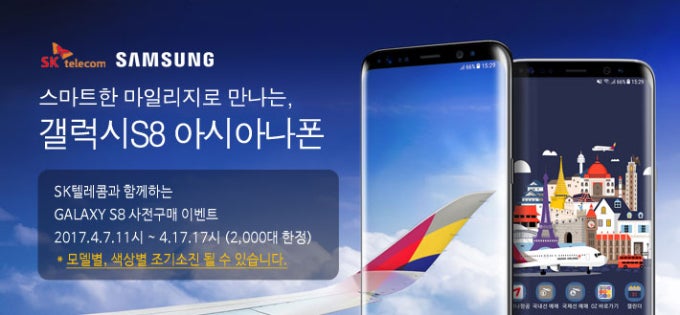 After the
Microsoft "edition" S8
, a new special edition of Samsung's latest flagship is on the horizon, although this one may not be easy to obtain, as it is aimed squarely at Asiana Airlines passengers.
Only 2000 units of the special edition will be made and they won't be sold at retail, but customers of the airline will be able to purchase them using mileage points. As can be expected, you won't be able to exchange a bunch of points for a "free" handset, as 30,000 points are needed to get in on the action and they will only net you a discount. For example, the 64GB version of the Galaxy S8, which is currently going for 935,000 KRW ($818) can be yours for 567,000 KRW ($496) and 30K of your mileage points. However, since the promo is a part of a deal between Asiana Airlines and SK Telecom, it is only valid for customers of the carrier, which even further diminishes your chances of ever getting one.
You may be wondering at this point what differences there will be between the Asiana special-edition S8s and the regular ones. Well, not many, that's for sure. Passengers of Asiana Airlines who manage to get their hands on of the 2000 units will be able to enjoy the airline's logo every time they boot up their phone, as it will replace the current Galaxy splash screen, as well as a special Asiana-exclusive theme. Exciting!
Those interested in getting a special-ed S8 can sign up for one by following the source link below. The deadline is April 17.